miyuki seed beads 11/0 - silverlined ab light blush 1023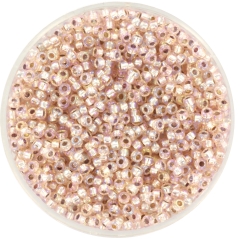 Description
Miyuki is the brand name of the best quality beads among the seed beads. Seed beads, also known as embroidery beads or seed beads, are very small beads. They can for example be used for weaving, stringing, embroidery or 3D cards.

The advantage of Miyuki is the very good quality. All beads have exactly the same size. Especially with special basting patterns, the result is much better with good, even beads than with beads that vary in size. Furthermore, Miyuki has many different colors, making many color combinations possible. There are also many different color types, for example silverlined (transparent with silver core), transparent, transparent with AB gloss, matte, metallic matte, etc. The color type is stated in the article name, in addition the English color name is stated.

Seed beads come in multiple sizes. The most commonly used sizes are:
6/0: approximately 3.3 mm length, 4.3 mm wide.
8/0: approximately 2.1 mm length, 3.1 mm wide.
11/0: approximately 1.3 mm length, 2.1 mm wide.
15/0: approximately 1 mm length, 1.6 mm wide.
You will receive the Miyuki beads in a seal bag with a sticker on which the size and color number are stated.

Please note: do not use color types galvanised, dyed, metal, metallic, czech coating and plated if severe wear can occur or if skin acids can affect them. If duracoat is mentioned, there is much less chance that wear will occur.


Extra pictures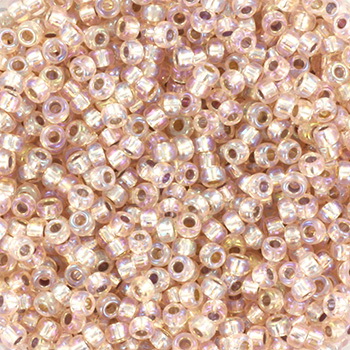 Same color but other shapes
Colormatch kleuren die dichtbij komen
1
Alternatieve kralen in kleurtype silverlined ab (max 10)
Products from same serie ( max 40)