miyuki seed beads 11/0 - plated silver and gold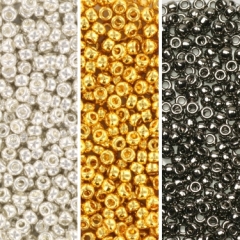 Miyuki is the brand name of the best quality seed beads, made in Japan. They come in different sizes and shapes and can be used for weaving, stringing, crocheting, knotting, embroidery, 3D cards and much more.

The big advantage of Miyuki is the very good quality and the fact that all beads have exactly the same shape and size. This always gives a very beautiful result and Miyuki offers a lot of different colors, which give endless combinations to create.

When you see 11/0, then the number 11 means the amount of beads that fit in one inch. This means the lower the number, the larger the bead is. The sizes of the seed beads can be classified as extra small, small, medium, large and extra large. The 11/0 seed beads are then small and measure 1,6 mm in length and 1.3 mm in height.


You will receive the Miyuki beads in a seal bag with the color number, color name, size and weight.
Colortype Mix
The mixes are always carefully composed, making the colors match well to each other. Some consist of successive colors, in others we chose contrasting colors. Also check out the mixes based on specific themes, seasons or the ones that match the fashion colors.


This kit contains:
See also
See also other beads in the same color and color type
See also other beads in color type mix (max 10)
Products from same serie ( max 40)