miyuki slide end tubes for delica's - gold 10 mm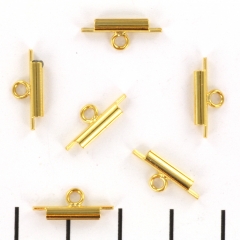 Miyuki slide end tubes are ideal metal end caps for finishing woven bracelets using 11/0 delica's. See Youtube clip for an explanation of how to apply.

These are the number of delica bead for each slide end:
10 mm slide end tube: 7-8 delicacies
15 mm slide end tube: 11-13 delicacies
20 mm slide end tube: 15-17 delicacies
35 mm slide end tube: 24-26 delica's
60 mm slide end tube: 45-47 delica's

The number of delica beads depends also on the thread that you use and how tight you bead. We recommend checking the first rows whether the width still matches the size of the clasp.

NOTE: Slide end tubes can only be used on delicas. Seed beads 11/0 don't fit inside these slide ends.
Extra pictures
Products from same serie ( 9 )